PRESS RELEASE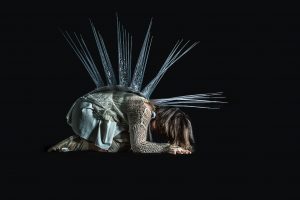 New performance created by children who have experienced childhood trauma
 Young people who have suffered childhood trauma have created, choreographed and directed a new performance in Plymouth to describe their experiences.
 The show "POI:SON" is the exciting first outcome of a long-term collaboration between  Professors Rebecca Langlands and Kate Fisher, Directors of the Sex & History project at the University of Exeter, and Plymouth-based social design agency Effervescent. It uses sound and film to show the emotional, physical and neurobiological effects on children who grow up with parents who have alcohol or substance addictions.
The project is part of a two-year study to explore how being given the opportunity to curate and produce work in a gallery space can impact young people's mental wellbeing.
The group of eight young people aged 12 to 17 years old have used new knowledge about different historical periods to be able to tell their own stories. They also interviewed adults who have survived similar upbringings.
Other partners on this project are Plymouth City Council and Hamoaze House.
The University of Exeter experts showed the young people some tiny antique Chinese footbinding shoes, and discussed the history of this practice. The group were then able to use this historical knowledge to devise the show, particularly to explore how bodies grow and transform when they are damaged.
Professor Fisher said: "These young people have immersed themselves in history in order to create this production, using objects such as an exquisite pair of nineteenth century Chinese foot-binding shoes as a starting point to think about the issues covered in POI:SON. But they also used lots of other ideas which contributed to the powerful vision produced."
The audience for the production are asked to be trainee neurologists in the POI:SON laboratory, and to review a roomful of evidence and monitor a child who has suffered abuse at home. The child feels responsible and is being harmed by parental addiction, but nobody has noticed. The child is becoming more and more unwell, and the audience has to decide what to do.
Professor Langlands said: "This is an important, emotionally truthful, relevant and spectacular performance. Those who have seen it so far have told those involved it was beautiful, engaging and moving. One audience member said POI:SON would bring about a shift in educational understanding if it was performed in schools."
This immersive performance-based show will run until the 24th April 2018 Monday to Saturday 10am to 7pm, at Radiant Gallery, Plymouth.
Notes
Created and curated by Amber, Brad, Chanel, Charlie, Chloe, Madi, Jas and Declan.
Young Curators assisted by Effervescent Artists and associates: Clare Howdle, Dom Marcellus Temple, Eloise Malone, James Ellwood, Marcus Crandon, Nico Bray, Phil Innes, Vivianna Chiotini and Zander Grinfeld.
Production Assistants: Emily Hide, Jaydan Miles, Jessica Adams, Kev Attwood, Lily Treseder and Ryan Wilce.
Performed by Ashleigh Edwards, Ben Rodell, Rory Wilton, Chrysanthi Avloniti, Jasmine Squibb, Eloise Malone, Valentina Pakou and Victoria Horan.