We offer free support and training for teachers, educators and schools in how to use the Sex & History resources in your own educational settings.  Contact us to find out how we can support you! We are happy to arrange an informal meeting to chat on the phone or online.
We can run shor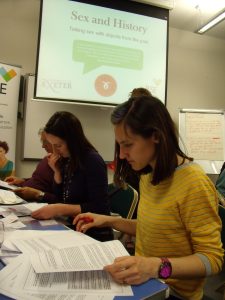 t online webinars for you and your staff (usually 1 to 2 hours long), tailored to your particular needs, introducing the resources, explaining how to make the most of them, and answering your questions! We are also happy to provide follow-up consultation, and keen to discuss with you how the resource can be best used in your particular setting. In 2020-21 we have run webinars for the National Youth Agency (UK), National Education Union, the English Schools Foundation and the UK Army Welfare Services.
The Sex Education Forum has integrated the Sex & History resource into its training programmes, including the government-funded anti-homophobic, biphobic and transphobic bullying programme delivered to more than 800 schools through face-to-face training (2015-9); the core training package in all 38 secondary schools in East Sussex over a two-year period and their national training portfolio.
'materials are cleverly crafted to allow young people to objectively discuss relevant social issues such as bodily autonomy, gender and sexual pleasure in a way that is removed from their personal lives and experiences… We have found Sex & History particularly useful in addressing anxieties around discussing porn… [it has] influenced our own practice in delivering sex education'
The highly-regarded School of Sexuality Education developed its programme in consultation with Sex & History, and uses the resources as part of its portfolio to deliver intersectional, feminist and sex-positive workshops.