The Sex & History methodology is based on historical objects based in museums, and over the years we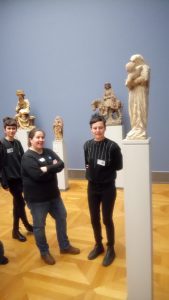 have collaborated with many museums, collections and museum professionals, including: Royal Museum of Cornwall, Truro; Royal Albert Memorial Museum, Exeter; V&A; British Museum; Wellcome Collection; Women's Museum of Denmark in Aarhus; Bode Museum, Berlin.
Our work has been recognised as supporting the museum sector in its engagement with the wider public. We regularly organise and contribute to explorations of the role of museums in supporting RHSE and sexual health.  The 2018 Museums as Spaces of Wellbeing report, produced by the UK's Culture, Health and Wellbeing Alliance, features Sex & History as an example of best practice, and it also features as a case study on the Museum Studies MA programme at University of Leicester.
Selected collaborations
The Museum of Classical Archaeology in Cambridge is currently using our Sex & History methodology in a project focused on body image, in collaboration with Advocating Classics Education at Kings College, London.
We worked with the British Museum to incorporate the  Ain Sakhri sculpture into our LGBT+ Objects resources. They provide RSHE sessions for participating schools with an artist-educator led exploration of museum objects.
We are involved in a long-term collaboration with Humboldt University, and a group of other museums (including the  Werkbundarchiv – Museum of Things, Bode Museum, Museum of European Cultures and the Kinsey Institute) on object-based learning and sexuality, in relation especially to the re-cataloging of and curation of the Naomi Wilzig collection of erotic art.
We worked with Ina Linge (then at the University of Cambridge) on the Sex in Six Objects programme, a series of workshops with young people exploring the history of sexuality.
In 2014 we co-curated the Intimate Worlds' Exhibition at Royal Albert Memorial Museum, Exeter.
In 2010 we collaborated on the Revealing Collections special exhibition at Royal Museum of Cornwall, Truro.
In 2010 we took a group of young people from around the South West to visit the storehouses at Blythe House, where they discovered erotic objects held by the Wellcome Collection – this was an early indication to us of how brilliant such objects were for sparking conversations with and between young people about sex! Back in Exeter young people worked with facilitators to produce Creative responses to these objects from the Wellcome Collection, which were exhibited and performed in a show at St Nicholas' Priory in 2010.
We worked with the Wellcome Collection as consultants on The Institute of Sexology exhibition (November 2014-September 2015).